DNL GROUP®
​Tradition, Innovation & Performance in

Fatty Acid Oils

,

Agricultural Produce

and

Estates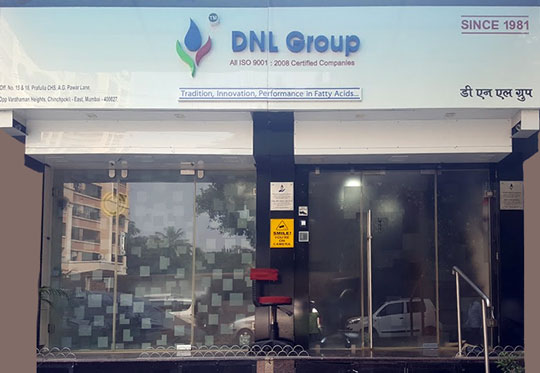 Dinesh Nanik Lulla (DNL) started his business journey way back in 1991 as an individual struggling entrepreneur, the rewards of which was seen with the incorporation of the first company in 1996 under the name of Dinesh Sales Corporation®. In due course of time, it reached new heights of success as one of the leading House dealing into Non-Edible Vegetable Oils, Acid Oils and Fatty Acids. Through our persistence, perseverance, and enterprising objectives we have managed to achieve a quest leap in a Business which we have dreamed to excel in.
Dinesh Sales Corporation® and its group of companies known as DNL Group is the brainchild of Mr. Dinesh Nanik Lulla (DNL) who is the founder, CEO, and the key person of the organization. Our sturdy combination of Dependability, Punctuality and Expense have been a key to accomplish the needs and satisfaction of our Business Associates ...
Oils
Trading house having Pan India Presence dealing mainly in Acid Oils, Fatty acids and Oleo chemicals.
Properties
Buying, Selling, Renting and Developing of Land & Properties.
Agricultural Produce
Producers of pure organic Vegetables, Fruits & Plants using premium grade organic seeds
Our Companies
1991 is when our journey and the beginning of an empire spanning across India begins. It started all with Dinesh Sales Corporation® which was primarily a trading concern in Acid Oils, Fatty Acids and Oleo Chemicals. Gradually we brought in warehousing capacity to our business with additions of Godowns and with this began our wholesaling business in Acid Oils, Fatty Acids and Oleo Chemicals with Divine Oleo Formulations (India) LLP® in 2014.
We branched out into construction with the start of Divine Shelter Constructions LLP® in 2013 and also engaged in renting, sale and Purchase of properties and land. Our entry into agricultural produce was through Divine Shelter Farms through which we have created plantations of Chikoo, Mango, and Bamboo, Coconut & Vegetables.
Our Journey has been about growth and expansion at a breakneck speed to turn us into the conglomerate we are today.
What We Do?
DNL Group is a group name for four companies namely: Dinesh Sales Corporation®, Divine Oleo Formulations (India) LLP®, Divine Shelter Farms® and Divine Shelter Constructions LLP®.

Our Commitments
The markets we deal in fluctuate on a daily basis, but once we give a commitment we stand by it and fulfil it irrespective of profit or loss as for us commitments are a priority and financials are secondary.
We stand by our motto of "Do our best and give our best" and follow this even if the times get difficult.
Provide end to end support from negotiation, order placement ,logistics, delivery and after sales support
Quality Assurance
We believe in maintaining the authenticity that we have created, and following are the major factors
Very Wide Business Network
Certificates
We have been awarded the certificate authorized for issue by American International Accreditation Organization Bureau of Accredited Registrars, (AIAO-BAR) who have assessed SM Certification Services as a Certification Body.